This post is a compensated one as part of a PopChips and BloggingMammas campaign




All opinions expressed are our own



This Friday we have been invited to a great movie experience for the launch of the new Katy Perry kettle corn popchips, sweet and salty corn chips that are popping up at most Target stores.
What really has us curious about this new product is how very Katy they are from the flavor twist, the packaging, plus the fact that these are naturally popped corn chips with less than half the fat of fried chips.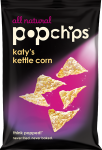 What has us looking forward to the event is that while Summer is truly upon us in South Florida, we can still enjoy the outdoors without baking. We will be viewing the movie at an open air theater!
The movie we will be viewing is Hotel for Dogs at the "Screen on the Green" in West Palm Beach.
Join us if you can, all the details for the movie watching are on the link above, and it is free as well as parking. (109 N Clematis St, West Palm Beach, 33401)

Just in case you can't make it, there is another event going on tomorrow 5/8 @ 8pm to view Wreck It Ralph (free) at The Shops at Midtown( 3401 N. Miami Avenue #132 Miami, FL 33127)

Yes, we are ready the movie experience paired to the discovery of the soooo Katy Perry chips promise to be a great evening!




popchips®, one of the fastest growing snacks brands in north america and the uk, is a naturally
delicious line of popped chips with all the flavor and half the fat of fried chips. popchips has been
winning awards and acclaim since its launch in 2007 and has a growing list of celebrity fans and
investors, led by social media pioneer and actor, ashton kutcher, who serves as the company's
"president of pop culture."
popchips are now sold at over 20,000 retailers across north america and the uk, including whole
foods, safeway, kroger, target, wegmans, loblaws, waitrose and select costco locations, and
online at store.popchips.com. for more information about the company and its products, pop
over to popchips.com, become a fan on facebook or follow us on twitter.


about katy perry.

katy perry has cemented her status as a best-selling superstar with the global success of her

second studio album, teenage dream, which debuted at #1 in 8 countries and has spent every
week in billboard's top 200 album sales chart since its release over 2 years ago. she became the
only female artist to have 5 #1 singles from one album on the billboard hot 100 chart ("california
girls," "teenage dream," "firework," "e.t." and "last friday night"). the recently-released special
edition, teenage dream: the complete confection, added "part of me" and "wide awake" to
katy's list of nine top 40 chart-toppers (dating back to her multi-platinum debut album, 2008's one
of the boys, which generated four hit singles: "i kissed a girl," "hot n cold," "thinking of you" and
"waking up in vegas"). in 2011, she sold out arenas around the globe on her california dreams
tour. the tour was the subject of 2012's 3d feature film, katy perry: part of me, which is already the
fourth biggest music documentary of all time, outpacing films from madonna, u2, and the rolling
stones.